Transition Age Youth & Mental Health
The years extending from adolescence to early adulthood are a time of profound neurological, emotional, and social development. The intersection of identities become more pronounced as young people between the ages of 14  to 26, often referred to as transition age youth or TAY, are thrust into self-sufficiency and navigating new systems and people. During this time many young people will come up against the initial onset of serious mental health experiences.
Those experiences can include depression, anxiety, thoughts of ending one's own life, hearing voices, and seeing visions that could be harmful or scary. Youth can also experience trauma triggers, which cause them to recall a previous traumatic memory if they come into contact with a certain smell, environment, or person/people. These experiences can be debilitating to the day-to-day activities required for healthy relationships, school, and work.
As they cross into adulthood, California's approximately 5,500,000 transition age youth face the sometimes overwhelming responsibilities of paying rent, entering and persisting in college, and/or employment, and developing significant adult relationships. For those who have experienced homelessness, foster care or juvenile justice systems, these tasks can be even more difficult to navigate. For TAY struggling with mental health experiences, the challenges typical during this time period can be greatly enhanced.
TAY mental health resources in most of our 58 counties are still largely planned and implemented by adults. Not surprisingly then, these resources are not effective for many of the youth who need them and who suffer long-term disconnection from education, employment, and relationships as a result.
To join us in creating a more equitable space for young people, visit our Get Involved page. To learn more about TAY and mental health, visit our Resources page or read our State of the Community Report.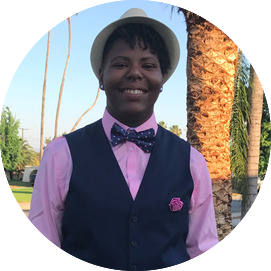 "When you have mental health issues, things can hit you ten times harder than other people. Sometimes you can't get a hold of yourself and you feel lost within yourself. When you're well, you feel at ease with yourself, you feel like life is good even though we all experience sorrow and pain. When you're well, you move through it more quickly than someone who is experiencing mental health issues."
— Christina Parker, 22, CYC Member and Student at Cal State San Bernardino
"There is so much stigma around mental health and that needs to change. Young people are always willing to learn and grow if they know that their opinions matter and their voices will be heard. Breaking down those barriers around mental health and stigma reduction is key; young people are amazingly resilient and every person has a voice to be heard, we just need to learn to listen. As a young person myself, I know the struggle of not being empowered nor informed about my mental health and the conditions I live with every day. We are experts in our own right, we just need the tools to amplify our voices and that's where change can truly begin. I believe that No Stigma No Barriers can help young people find their voices and empower themselves and others to break down barriers. -Cecelia Najera, 25, Youth In Mind member, speaker, writer, artist, advocate